Dave McGovern - Clarkstown North 1983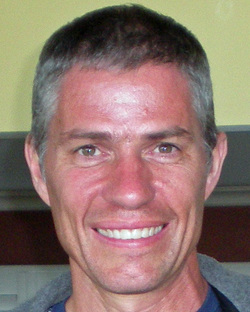 How in the world did a modestly talented dude like Dave McGovern become a racewalking Superman? How did he qualify for seven consecutive U.S. Olympic Trials, more than any other track & field athlete in the meet's history? How did he become one of only three Rocklanders to place in the top five in the Olympic Trials (5th, 20K walk, 1992)? How did he win 14 national titles at distances ranging from 10K to 40K and represent the U.S. in 20 international competitions, including seven World Cup and six Pan Am Cup teams?

And what is he doing still competing at a national-class level in his mid-40s while doubling as one of the country's leading authorities on the racewalk – coach, clinician and author extraordinaire?

To answer those questions, you have to understand Dave's makeup. He doesn't take himself too seriously. This is a guy who was once hauled into the Clarkstown Police station after driving around town in pajamas and Santa Claus hats with Clarkstown North teammates Mike Rogan and Paul Healy. On the other hand, he takes his craft very seriously. He once got arrested by SUNY Albany campus police during – yes, during – a 20K walk at the Empire State Games for failing to yield to pedestrians sharing the walkway.

On his longevity in this esoteric sport, Dave says sheepishly, "I thought I would eventually get a job, or eventually have to get a job, but it still hasn't happened yet. With every stage in my life I kept waiting for the other shoe to drop. I kept thinking that I couldn't possibly become a grown-up unless I quit walking and got a real job, but that seems not to be the case."

Dave's Alice-in-Wonderland adventure began on a lark his sophomore year at Clarkstown North. During a late-season spring dual meet at Nyack, he jumped in the mile walk to ease the sting of a poor mile run performance and to goof on racewalking teammate and friend Joe Cambria. Only problem was, he wasn't officially entered and got both himself and Cambria disqualified. Worse, his team lost the meet by 1 point. His coach, Paul Duddy, was not amused at Dave's antics and sentenced him to a season of racewalking purgatory.

Turns out the coach was doing him a huge favor. Up to that point Dave had been a mediocre distance runner – barely breaking 5 minutes in the mile – and a high-jump dilettante. After lots of initial resistance, he began to thrive at the strange-looking heel-and-toe waddle, clocking an excellent 6:57.4 for the indoor mile walk and waging many a dramatic duel with teammate Marc Ratliff.

Dave never made a State meet in high school, eclipsed by Section 9 walkers such as Tom Edwards and Andy Liles of Monroe-Woodbury and Mike Stauch of Delaware Valley, all of whom later attained national prominence. But the whiff of success in the scholastic ranks whetted his appetite for more in college. He followed Liles to the University of Rochester and embraced his friend's mentorship. "He was really my biggest influence," Dave says of Liles, a Junior National champion, "showing me that there was a whole world out there beyond high school racewalking."

Dave qualified for the 1984 U.S. Junior Nationals, which were held in conjunction with the U.S. Olympic Track & Field Trials in Los Angeles. He finished second in the Junior Nationals 10K walk to earn a trip to the Bahamas to compete in the Junior Pan Am Championships, where he placed third behind Carlos Mercenario of Mexico – the 1992 Olympic silver medalist at 50K – and U.S. Junior champ Tony Englehardt. "At that point I decided that racewalking could actually be fun, so I trained a bit more seriously," he says, entering the senior ranks, gaining a spot on the 1987 World Cup team and qualifying for the 1988 Olympic Trials in the 20K (12.4 miles).

That was the first of an unprecedented seven straight Olympic Trials qualifications, highlighted by his fifth in the 20K in 1992 and seventh in the 2004 50K – that's 31.1 miles, for the metrically challenged. He has qualified in the 50K for the 2012 Trials and has designs on making it in the 20K as well. "I'll be competing in the Trials with kids who weren't even born yet when I raced in the '88 Trials," says Dave, who turns 46 on May 28. "I like that. I'll like beating them even more!" Until a few months ago he was also the fastest 20K walker in U.S. history not to make an Olympic team. His personal best of 1:24:29 works out to 6:48 per mile – a pretty respectable running pace, never mind walking.

Dave's walking career has taken him to the farthest reaches of the globe, far-flung locales such as Beijing, South Africa, the Galapagos Islands, and the breathtaking national parks and wilderness areas in Alaska (Glacier and Denali national parks) and Hawaii. He has also trained extensively in Mexico, at fellow walker Mercenario's home in high-altitude Mexico City, the Mexican Olympic Training Center, and in Chiapas on the Guatemalan border. The Chiapas base was the site of a memorable month-long training camp in 1995 during the infamous Zapatista rebellion. "That was pretty wild," Dave recalls. "We had to pass through three military and paramilitary checkpoints on our 30K workouts on the ring road around the city."

Well before his passport became dog-eared, Dave honed his craft on the three-mile paved footpath around Rockland Lake, not far from his boyhood home in Congers. "I learned a lot about training at Rockland Lake," he says. "I don't know if I would have made the jump to the elite level if it weren't for learning to love hard work while doing lap after lap of the lake during my formative years."

The coaching chapter of Dave's career actually had its genesis at Clarkstown North, where he wound up tutoring girls on the team (Keleen Addams, Jeannie Rippa, Ramona Bairon) in the absence of any structured racewalking guidance. He later started giving clinics and camps "as a way to make a little money during college without having to get a job, which would have made training and traveling to races difficult."

He later obtained a master's degree in sports science (coaching and sports medicine) from the United States Sports Academy in Alabama, and has conducted some 20 clinics and camps per year throughout North America, as well as Europe and South and Equatorial Africa, since 1991. He is also the author of "The Complete Guide to Racewalking"and "The Complete Guide to Marathon Walking," is co-author of "Precision Walking," and is a contributing writer for Walking magazine.

Dave now resides in the Long Island hamlet of Locust Valley with his wife of almost four years, Loretta, and their son, Cavan, who turns 2 on May 22. Like Dave, Loretta is quite proficient in the "family business," having won the women's mile walk at the 2007 Millrose Games and holding the meet record in that event until last year. She also made the 2007 Pan Am Cup team and placed 10th in the 2008 Olympic Trials 20K.
---